Artist, tattooist and curator Stanislava Pinchuk. Photograph: Beth Wilkinson
She has inked Florence Welch and her work features in Nike ads. But for Stanislava Pinchuk, body art is an intimate story of identity
Ukraine there is a tradition before embarking on a journey. Once all the bags are packed and the last-minute checks are complete, someone will suggest, "Shall we sit?" Those gathered will pause for a moment in silence, heads bowed, to acknowledge the present before entering the unknown.
"Half are found ethnographic imagery, half are diamond patterns that are significant to Brook's own ancestral line," Pinchuk tells Guardian Australia. "It's a really intelligent work about what it means to document the body, and I think it's important in the Immigration Museum that the First Nations perspective is the first thing that you see."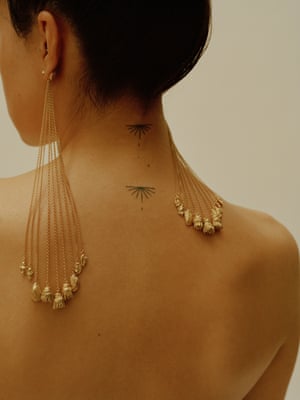 Pinchuk's own artwork has appeared in Nike ad campaigns, has been commissioned by Tiffany & Co and Louis Vuitton, and is permanently inked on to the bodies of singers Sam Smith and Florence Welch of Florence and the Machine, among others. That gives her the sort of hot profile that's irresistible to brands, but it's her sensitive and abstract data-mapping of war and conflict zones that made her the perfect curator for the Immigration Museum's winter-season focus on tattoos, cultural identity and immigration stories.
The larger exhibition is completed by two related blockbuster shows from overseas, Perseverance: Japanese Tattoo Tradition in a Modern World; and Tatau: Marks of Polynesia. Pinchuk's guest-curated section, Documenting the Body, highlights the works of four artists, including Andrew and herself, who are concerned with the intersection of immigration stories and art, particularly body art.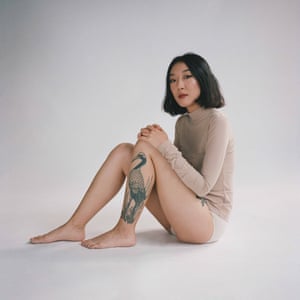 "It was taken at The Entrance on the central coast of NSW where I grew up and I thought she looked stunning and elegant," Annie tells Guardian Australia. She sat down with Stillen for an hour to discuss how her family history might be interpreted, which resulted in him drawing the crane on the spot. "Mum was a little bit more accepting of that tattoo because I explained it was about her," she laughs.
Annie instantly agreed to be the poster girl for the exhibition – her image hangs on a banner outside the museum – because she appreciates the fact that getting a piece from Stillen feels less transactional than is customary when visiting a tattooist. That's also the case for Pinchuk, who has been tattooing friends for 10 years.